Services
SylutionTM is a trademarked name for our services to help our clients in System Evolution. A core value of our business is to help manufacturing and process facilities add the tools for Kaizen and Operation Excellence while leveraging and evolving existing systems. We have years of experience in connectivity solutions to legacy systems and our ability to layer manufacturing intelligence over existing systems has been a hallmark of our solutions, writing and speaking engagements.
Our services are chosen and developed to help our clients, plan, justify, purchase and provide continuous improvement from Operational Excellence solutions.
Our SylutionTM services,
The diagram below shows you the types of value we provide to our clients. Click on the diagram to open an enlarged copy.
Dashboards and Reporting
Sylution helps our clients design the real-time dashboards and reports of their key performance indicators to be useful and actionable. There are several levels of real-time tools available to help our clients get exactly what they need to get manufacturing intelligence to from the plant floor to the corporate SharePoint® server.
Let us do a presentation of our ability to quickly design and implement the dashboards and reports you need for meeting operational excellence goals.
Performance Studies and Reports
Our audits can help you determine how well your lines are performing to meet your goals, test machine performance, perform acceptance testing, and more. Collect the data to do off-line analysis as well as see instant productivity reports. You can buy the audit and report or the tools to learn to do system audits as needed.
Sylution works with our clients to define the area of study. We will capture system performance in downtime, MTBF, Cycle-time, OEE and other line KPIs. Our engineers will generate report of the line performance based on the real-time data and other analysis that needed.
Do you need to improve manufacturing performance by reducing inventory, improving flow, and reducing cycle times?
You may benefit from implementing a Pull system of manufacturing. The problem is that perhaps Kanban used very successfully by Toyota doesn't work well in your plant with dozens of SKUs that can be run on any line.
Get a professional to help your team decide what strategy is best and how to implement it.
Click here if you want to learn how.
KPI Seminar
Key Performance Indicators are used to help us accomplish a goal to maintain a level of performance. The problem is that many KPIs are not useful in our particular environment. Ever tried to lose 25 pounds by counting fat, carbohydrates, calories, etc?
You may benefit from attending a KPI Seminar. The KPI Seminar defines key performance indicators and goes well beyond generalizations to discuss specifics of manufacturing KPIs such as OEE, TEEP, Availability, and even Energy Management.
Sylution offers several different levels of the KPI Seminar.
Do you need to improve production with the same assets? Do you need to see quality or production problems faster? Do you need web based electronic batch records, or manage energy use better?
Do you have a project to add a process historian or process reporting?
You may benefit from attending a Process Intelligence Tools Workshop. The workshop will provide an explanation of the historians, trending tools, reporting tools, web based visualization and reporting packages and where they can be used. In addition the workshop will cover basic information on storage capacity, speed and quality of data retrieval and basics of what to look for in tools. Please note: A workshop is a two way exchange of information that leads to understanding. The attendee should be prepared to describe needs, current systems, the GAP between where they are operating today and where they need to be, and their methods for budgeting and justifying solutions.
Sylution offers several different levels of the Process Intelligence Workshop.
Every company and every plant must have a plan to build upon existing systems and continuously evolve to systems and infrastructure to achieve business goals. This is not easy. Manufacturing solutions are not built like a building - starting with a foundation and building to some high level solutions in a future start.
Automation, networking, and business system are more like an atom. The systems revolve around the user. All components work together but any component can get changed out at any time.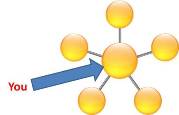 Sylution has provided support, services, workshops and training to clients in evolving their existing systems and architecture to help the business meet goals and evolve their systems.
Sylution can help you define the right steps to success in a one, three or five year technology budgeting plant. We look beyond the tools to help insure you are actually improving performance.