a href="http://sylution.com/OPEX/wordpress-content/uploads/2010/06/Answer.jpg">
Most of us already know that the old Warner Brothers cartoons were written to be appealing to a cross generational audience of movie goers from the 1930s to the 1960s. Kids loved them because they were animated and funny. Adults loved the cartoons because they were written with topical and political references are noticed today – even if they have lost much of their humor over the years. After years of enjoying these cartoons I have recently discovered one connection that would have made them very humorous to the adult above 35 years of age watching them at the movie theater.
What do you know about Foghorn Leghorn and his distinctive voice and oratory style? "Pay attention now, Boy! What, I say, now what do you know about Foghorn Leghorn?"
Well Foghorn, sans the name, was said to be originally developed based on a character from an LA radio station in the 1930s known as "The Sheriff". But if Foghorn was based solely on The Sheriff – then he changed. By his second or third appearance in cartoons almost all movie goers would immediately know that the loud mouthed chicken was a parody of the real Senator Beauregard Claghorn of South Carolina. That's a joke, son! You know a funny!
Senator Claghorn was Kenny Delmar's very fictional character that appeared regularly on the Fred Allen show from 1945 through the end of the show in 1949. Delmar's wildly popular character was bolstered by great writing and cast on Allen's top ranked radio show of 1946-47season. Senator Claghorn appeared in a movie in 1947 titled "It's a joke, Son". Kenny Delmar played the Senator, or a derivation thereof, in numerous shows, commercials and Broadway. Mel Blanc was the original voice of Foghorn Leghorn although Delmar went on to voice several cartoon characters himself. Interestingly, Warner Brothers copyrighted Looney Tunes in the 1960's and Kenny had to ask permission to use his old catch phrases thereafter.
Appropriately, the Yankee hating Senator Claghorn was created by a Yankee from Boston, MA. Now – that's a joke, son! Kenny Delmar died in 1984 and is buried in Long Ridge Union Cemetery in Stamford, CT.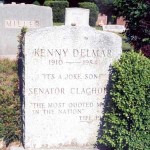 Back to Foghorn… as you can tell immediately when Warner Brothers got around to naming the loud-mouthed chicken – Foghorn Leghorn is more than just a little like Claghorn.
Listen for yourself to Kenny Delmar from the Fred Allen show.
Kevin Totherow is a Business Development Manager of MES for Schneider Electric and a consultant for helping manufacturing clients manage their operations better. Kevin has been a controls engineer, consultant and president of Sylution Incorporated. He can be reached at (864) 252-6819 or by email at kevin.totherow@schneider-electric.com.