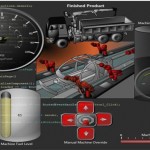 This month our regular newsletter had two articles on Volkswagen's Transparent Factory in Dresden Germany. In one of the articles I explained that all plants can be retrofitted to be transparent with the use of "windows" into the plant. The windows can show real-time graphics, reports, and even video of the manufacturing process to make it transparent anywhere. However, a strong case can be made that the place to begin to make the plant transparent is on the shop floor itself.
If you are reading this article then likely you are the one that will figure out how to show real-time manufacturing information on the plant floor.  A logical place you may start will be with the tools you know best – of course that means HMI software. If the HMI shows the data in front of the operator for process control then it will be a good solution for Electronic Signage. It might be – but there is another solution that you might consider.
Mobiform's Status Vision Designer helps people build applications that can be deployed in a PC or in server and shown in web browser. On one hand Status is a web-based HMI software that connects to controllers or historians via OPC to provide visualization of real-time and historical information along with the ability to control the process. It is different than most other HMI solutions in several ways.
Status can be deployed using only a web browser. This is very useful for electronic signage applications.
Status is inexpensive – really inexpensive.  $800 per concurrent user.
Status is built to for Electronic Signage. Use the built-in Scheduler to cycle a series of messages generated by the designer for real-time process KPIs, corporate visitor information, safety, and employee messages. The ticker feature included with Status lets you display web-based feeds such as stock market data, weather, news and or any other data.
Status can connect to get data from OPC servers, XML-DA, MSSQL, ODBC, the web, and custom data sources making it an excellent choice to show all of the information needed about the plant operation.
Finally, Status has some 70+ customizable UI Controls.
Sylution is excited about the Status Vision Designer. This software is so easy to use – you can watch online YouTube videos to learn how to accomplish most things without going to a training class.
If you need a tool to help you deliver Digital Signage or HMI then I suggest you consider Status Vision Designer.
Learn more at our site:  http://www.sylution.com/products/StatusVision.htm
Here is how Mobiform describes Status:
Manufacturing:
Mobiform's Status Vision Designer® gives manufacturers a powerful data visualization and monitoring tool that will help reduce applications development time and operational costs while making the information gap between management and the production floor almost non-existent. Status makes it easy to monitor and control multiple shop floor processes from a single location and have immediate visibility to data trends, making it easy to anticipate potential problems.
With proper security through your IT network, Status makes it easy to monitor and control data available using built-in connectivity to OPC DA and XML-DA data sources. Status can also be easily extended to bind to other types of data.
Status publishes projects that can be viewed in Windows XP or Windows Vista using the Status Client. Projects can also be published directly to Silverlight web applications producing real-time visualization from a variety of web browsers or platforms. Managers and operators alike will become more efficient with access to data across a corporate intranet or the internet.
Digital Signage:
Status Vision Designer® is a powerful software design solution for your digital signage display needs. Using Status, companies can display meaningful real-time information such as sales or manufacturing figures or, using the built-in Scheduler, cycle a series of messages generated by the designer for corporate visitors, internal training or other employee messages. The ticker feature included with Status lets you display web-based feeds such as stock market data, weather, news and more.
Optimize your communications with Status. Present and remotely control your message from across the aisle or across the globe on any type of display including plasma or LCD screens, digital billboards or kiosks. Status Vision Designer® allows you to efficiently manage and deliver your digital signage content, saving you time and money.